Connectivity in Middle-East: Revolutionizing Data Connectivity with Modern Technology
The Middle East has seen a flourishing Data-on-demand connectivity service in the region, with the citizens enjoying optimal connectivity. However, there is a call for better and more seamless data […]
The Middle East has seen a flourishing Data-on-demand connectivity service in the region, with the citizens enjoying optimal connectivity. However, there is a call for better and more seamless data connectivity in the region, which will help enhance the overall connectivity experience tremendously. And the O3b mPOWER, a satellite terabit system, possesses a tremendous capability to bring about seamless connectivity in the region.
To shed further light on the upcoming technologies and how they will improve the data connectivity in the region, TechAfrica News, SES, and partners are coming together in conversation.
This conversation will take a deep dive into the challenges the region faces in terms of data connectivity and the advanced solutions that will help further along with the connectivity experience for the masses.
Panelists:
Chris Green

Senior Editor
TechAfrica News

Chris is an experienced executive with thirty years of experience in International Business Development in both sales and marketing. He has been active in the IPTV/OTT sector for more than twenty years with responsibilities in sales and business development worldwide. Lately, his focus was on developing the Middle East and Africa area.
Hamid Nawaz
General Manager Fixed Data
Middle East & Central Asia
SES Networks
Hamid is a Telecommunications Engineer by education with experience of 24 years primarily in the field of Satellite and Mobile Telecommunications Systems. He joined SES in 2014 and has been appointed as the General Manager for the Middle East and Central Asia in 2019. Hamid has a unique experience of developing and rolling out satellite networks based on the combination of Medium Earth Orbit (MEO) as well a Geostationary Earth Orbit (GEO).
Deepu Pillai
Manager
Strategy & Market Intelligence
SES Networks
Deepu Pillai works as a Manager at the Strategy and Market Intelligence department of SES focusing on the Data Network business. He provides support to the corporate and Go-To-Market strategic plan of SES by providing vertical insights and analysis. Deepu is also the front-facing market intelligence interface for commercial teams serving Fixed Data and Government verticals. He is a seasoned speaker at numerous industry conferences, customer events, and regional team sessions.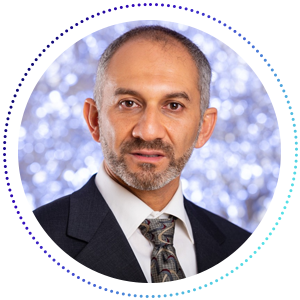 Ahmed Al Kindy
Department Head
Transmission Network Planning
Ooredoo Oman
Ahmed AL-Kindy is a highly qualified experienced engineer and manager with over 28 years of diversified exposure and experience in mobile and fixed telecommunication systems planning, rollout, and project management including transmission systems, mobile radio access, and site infrastructure. Ahmed Has been working with Ooredoo Oman since 2012 and he is currently the Department head of Transmission Networks Planning.
Muneeb Khan
EGM Corporate Strategy
MENA Telco
Muneeb has 17+ years of experience in different domains of the ICT industry ranging from Strategy, Corporate Venture Capital, and Strategic Marketing and Innovation with both market leaders and challengers. He has been involved in helping retain leadership for an incumbent, significant market share growth for a new entrant, a turnaround of a challenger operator along taking a technology-based startup to list in Nasdaq.